Japanese Anime Action Figures Roronoa Zoro Figurine One Piece Collectible 18cm Figuarts Model Toys
After 4 years successful selling Online, we decided to start Anime Store with trendy Japanese Anime Action Figures Roronoa Zoro Figurine One Piece Collectible 18cm Figuarts Model Toys and many more fan merch for true fans. Fanmerch Store are currently specialized in Different Fashion.
Fanmerch value each individual customer as well as wholesale customer. Our warehouse is located in different countries worldwide. Fan Merch provide native-speaking customer service in English.
Fan Merch Store offer our customers amazing savings compared to prices offered by traditional retailers for similar or identical products.
Do not hesitate to contact us any time before and after your purchase; we are committed to 100% customer satisfaction. We back our commitment with superb service and 100% customer satisfaction guarantee.
Buy Japanese Anime Action Figures With Confidence!
DESCRIPTION
The Name: Roronoa Zoro Anime Figurine
Anime Figurine Commodity Material:PVC
Roronoa Zoro Condition:100% NEW
Anime Model Zoro Size: Approx 18cm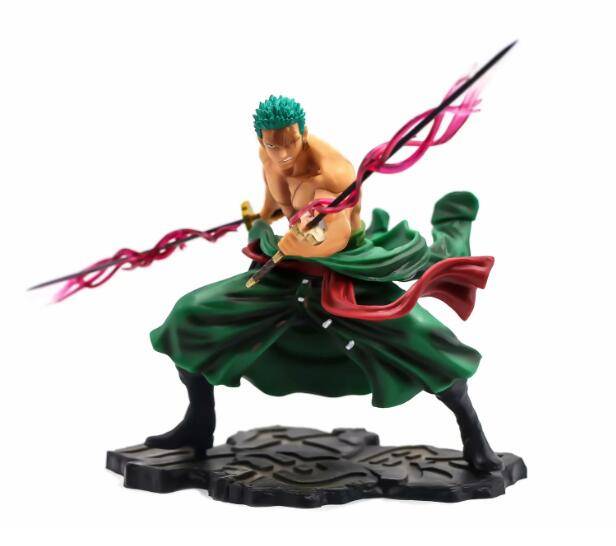 Japanese Anime Action Figures
One Piece Collectible
One Piece Roronoa Zoro
Know More Japanese Anime Action Figures Collectible, spelled as "Roronoa Zolo" or "Roronoa Zollo" in some English adaptations, nicknamed "Pirate Hunter" Zoro, is a fictional character in the One Piece franchise created by Eiichiro Oda.
In the story, Zoro is the first to join Monkey D. Luffy after he is saved from being executed at the Marine Base. He is one of the two swordsmen of the Straw Hat Pirates, the other being Brook. As a native to the East Blue, he came from the town known as Shimotsuki, where he trained in a dojo and learned the one and two-sword styles. Zoro is uniquely known as an expert of Santōryū (Three Sword Style), where he wields a third sword with his mouth in combat. Throughout the series, his primary sword is Wado Ichimonji, a sword that he inherited from a childhood friend, and is frequently the sword that he wields in his mouth.
Zoro first appears in the manga chapter "Enter Pirate Hunter Zoro", first published in Japan's Weekly Shōnen Jump magazine on August 18, 1997. He first appears as a captured criminal awaiting his execution at the hands of the Marines. Before the beginning of the series' narrative, Zoro loses his childhood friend Kuina and vows to get strong.
For years, he hunts pirates only to get money for food in the company of his friends Johnny and Yosaku. When Luffy offers Zoro to join his crew, he initially refuses. However, after Zoro is saved from being executed by Captain Morgan, he joins Luffy. When he discovers that the best swordsman in the world is Dracule Mihawk, Zoro thinks only to beat him one day. However, he is defeated at Mihawk's hands.